1997 Waterford Hills and some Drag Racing
(As originally reported on the Talon Digest)
Ho all, here's a report of the DSM related goings-on this past weekend: Friday was the Michigan Corvette Club's Autocross at the 1.5 mile road course at Waterford Hills, just north of Detroit. More non-Corvettes showed up than Corvettes, so it actually wound up being more of an SCCA event, right down to the SCCA classes being run.
What's more, it wasn't like any other autocross I've ever been to. Aside from 3 gates in the straight before Big Bend, there were no cones to avoid. Imagine being turned loose alone on a road course with no limits as to what you do (aside from the guardrails!) Whoo hoo!

The weather, however, could have been better. Cold and moist. Not raining, but not NOT raining either, with the clouds threatening to open up at any second...
There was no format to the event, just get in line and make your three runs whenever you wanted. I looked at the moist track, looked at the sky, looked at practically everyone else besides me running on slicks, and took a gamble on running early.
The runs themselves: the most fun you can have in a car with your clothes on. I was doing a fair amount of sliding (a combination of stock RS-A's and a slick track) but it was all predictable and I never got any nasty surprises. Talons are a real joy on the road course, no matter if you're on the straight (top of 3rd gear on the back straight!) under the brakes, or cornering. That harness made a huge difference too - all of a sudden I could feel what the car was doing in the corners.
I pulled 10 seconds out of my time from first run to last run, and when I finished, I was in second place. Not bad for a first timer on the course, eh?
And then 2 things happened.
First, a Mustang lost it and plowed into a guard rail, winding up teeter-tottered on top of it. Both he and the corner workers who had been standing behind it were OK (although some underwear was changed) and his car was OK too - although his front spoiler went home in the trunk.
Next, during the hour or so it took to get things cleaned up, the sun came out, and everybody in my class except for me and another guy had saved a run just in case...
Needless to say, I didn't stay in second for long. Doh! Oh well, live and learn.
There's another event at that track next weekend; I can't wait to see if I can rectify things at this one.
Race two was Import Day at Cayuga Dragway on Saturday. A contingent of Ontario DSM guys came out to teach a few Honda types what fast really was. Great weather, great track, great day - we wound up with Talons winning the 12 second class (Boro) the 13 second class (Lionel) _and the runner up spot in the 13's as well. So the 3 top spots went to DSM's. Way to go guys!
And yours truly? Well, after cutting .525 lights all day (not counting 4 runs that morning where I got all screwed up and my Driver Adjuster had to make some adjustments) I redlighted in the first round with a .468. Doh!
Highlight of the day - seeing a bright red Honda Civic SI, covered in racing stickers, with every single body seam and vent on his front end covered with silver duct tape, I kid you not. I meant to ask this guy why he'd done this travesty of engineering, but I never got the chance.
Day three was Chryslers at Cayuga day. 3 classes, LOTS of cars, lots of very good drivers, one Talon. Me. The average reaction time on Saturday was somewhere between .8 and 1.1, here it was about .58. Yow! That's what happens when there's some serious money on the line.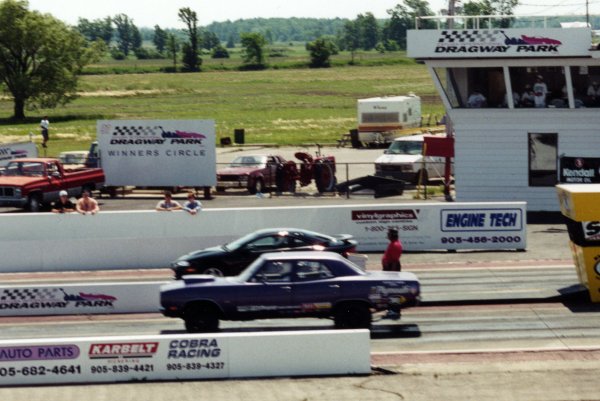 Unlike the day before, where the car had been consistent and I had been out to lunch, today I was straightened out but the car was all over the place. :(
I won my first round on a red light - but suddenly, the track came back and I broke out by 3 tenths. A quick adjustment to the dialin, and up again - and a .498 light AND a 15.20 on a 15.25 dialin, just to add insult to injury. Doh!
Overall, despite the total lack of success, a great weekend. A couple of the guys who came out Sat ran personal bests, and it was great to see the DSM domination of the fast classes. And as for me - I'll be back. You never stop learning, and I learned a whole bunch this time around.
Next weekend, back to Waterford Hills!